WELCOME TO SAITHONG BUNGALOW
Relax on Koh Phayam
Welcome to one of Thailand's undiscovered paradises. Saithong Bungalow is located on Koh Phayam in the Andaman Sea, just a 40 minute boat ride from Ranong. We offer 7 bungalows, a restaurant and bar directly on the beach. Our beachfront restaurant serves local Thai specialities as well as selected western dishes.
Saithong Bungalow is a family-run business since 2005 by Thai owners Eow and Cha. Since then, they successfully run Saithong Bungalow as a small resort focusing on quality and a welcoming atmosphere. The business started with 5 small bamboo bungalows, growing gradually and now offering additional 2 spacious and comfortable bungalows. The exceptional quality of the restaurant and its location at an outstanding part of the beach make Saithong Bungalow one of the most attractive places to stay on Phayam. At the same time, Saithong Bungalow maintains reasonable room rates.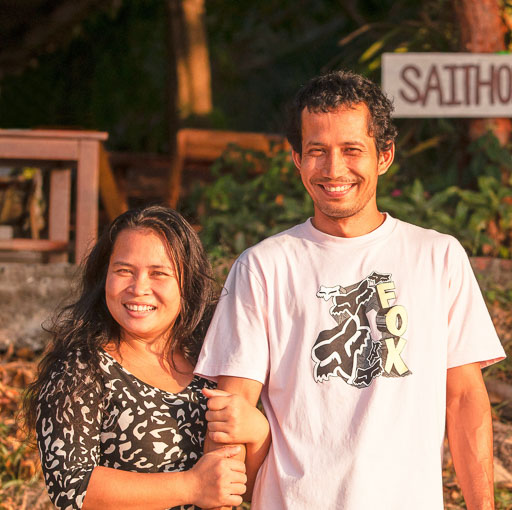 WELCOME TO SAITHONG BUNGALOW
Away From The Masses
Saithong Bungalow is located at Ao Kwai – a small bay on the west coast of the island, the perfect holiday hide away. The resort is right in the middle of the bay with a spectacular sunset almost every evening. We offer you a small but well organized resort with all the conveniences you wish while preserving a traditonal and authentic Thailand-feeling. Koh Phayam island is a paradise for sun worshipers, scuba divers, hikers, kayakers, bird watchers and yoga lovers; there is an activity to satisfy just about everyone. One of the great advantages you have when staying in the Saithong Bungalow is that swimming is possible at high and low tide.
OUR BUNGALOWS
Accommodations
We care about sustainability
Agrotourism & Organic Farming
Together with other families from the island, we are very proud to have set up a self-organized group dedicated to sustainable and organic agriculture and farming. In our gardens we grow local fruit like bananas, pineapples and lemons as well as vegetables we use for our restaurant.
A speciality are the fresh Cashew Nuts right from the island, 100% organic and harvested by hand. You can taste them at Saithong Bungalow in our dishes, or buy them directly. We also offer homemade, chemical-free anti-mosquito spray, soap, Cheeva balm and other seasonal products for your health and well-being.
See for yourself by joining one of our Koh Phayam Farm Tours!